TOPICS
Production of natural fir Christmas trees.
Green Wise has set up and managed Christmas trees for various commercial facilities again this year. Our Christmas trees are 30 – 35 year old live Nikko firs transported directly from Gunma Prefecture complete with their roots and during the display period, we also conduct quality management. By displaying natural fir trees in stores, we can achieve green promotion in which visitors can experience the warmth and scent of nature with the five senses. Taking the environment into consideration, the trees are returned to the production area after the display is over.
The Christmas trees at Takashimaya Tokyo Branch and Tamagawa Takashimaya Department Store were covered in magical decorations with shadow art motifs produced by Kei Goto of the shadow play theatre, Kakashiza. An original Christmas story full of love expressed by the movement of hands, accompanied by the beautiful voice of Susan Boyle.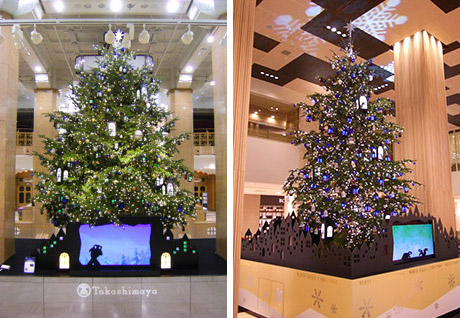 ○Takashimaya Tokyo Branch 1F Hall
・Event name: 2010 Takashimaya Christmas
・Address: 2-4-1 Nihonbashi, Chuo-ku, Tokyo
・Installation period: 9th November – 25th December
・Tree size: height: approx. 6m, width: approx. 3.6m
・Takashimaya Tokyo Branch  http://www.takashimaya.co.jp/tokyo/index.html
○Tamagawa Takashimaya Department Store Main Building 1F Grand Patio
・Event name: WHITE ANGEL CHRISTMAS 2010
・Address: 3-17-1 Tamagawa, Setagaya-ku, Tokyo
・Installation period: 17th November – 25th December
・Tree size: height: approx. 5.5m width: approx. 3.5m
・Tamagawa Takashimaya Department Storehttp://www.tamagawa-sc.com/home.html