TOPICS
Participation in the 4th Hilltop Harvest Festival 2014 and holding of interactive event with the themes of green and normalization
On November 29th (Sat), Green Wise Co., Ltd. participated in the 4th Hilltop Harvest Festival 2014 (organized by Tokyo Green Systems Corp.) and with the cooperation of Tokyo Green Systems, we held an interactive event at company headquarters with volunteer staff and students from the Tokyo University of Agriculture.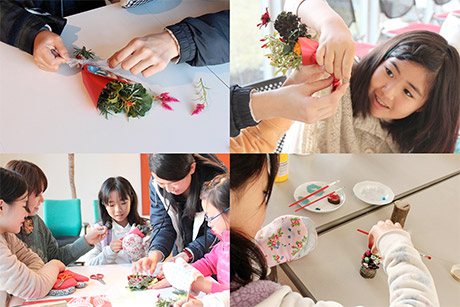 In this workshop, participants had a simulated experience of having a disability in one arm using an oven glove. Participants were split into pairs (one pair with two arms) and worked together on challenges such as creating a tree made of pine cones and a scented bouquet (tussie-mussie). Participants took the challenges seriously and it was a fun event with a sprinkling of laughter.
Participants who made a tree out of pine cones gave the following comments: 'It was fun putting all the different beads on', 'I was able to make it to my own taste' and 'It was good that my five-year-old managed to use tweezers for the first time'.
he scented bouquets were made in TSUNAGARU NIWA at our headquarters. The materials we used were fresh herbs and flowering plants grown in Model Garden 001. This activity was also viewed favourably with comments such as 'It was great to be able to enjoy the scents while making it' and 'The scent was lovely and it was fun making it with my friend.'
The experience of the difficulty of being unable to use one hand or the dominant hand and communicating and helping each other gave rise to comments such as 'Using one hand was a valuable experience', 'I realized how difficult it was to have a hand that was hampered', 'It was great to be able to do it with my children' and 'It was fun making it with my sister'.
On the day, even although it rained in the morning, we had the highest number of participants ever at 82 and it was a good opportunity to think about normalization while coming into contact with the familiar charm of nature.
Tokyo Green Systems Corp.
http://www.tgs.co.jp/