TOPICS
Received the 23rd Nikkei The Best of New Offices Environmental Award in 2010 and specially acknowledged as one of the 100 Best Greens
Green Wise Co., Ltd. received the 23rd Nikkei The Best of New Offices Environmental Award in 2010. The Nikkei Best of New Offices Awards are held every year by Nikkei Shimbunsha and the New Office Promotion Association (NOPA) to publicly recognize comfortable and functional offices. In this 23rd edition, 11 Best of New Offices Awards were awarded to successful candidates from a total of 96 applicants.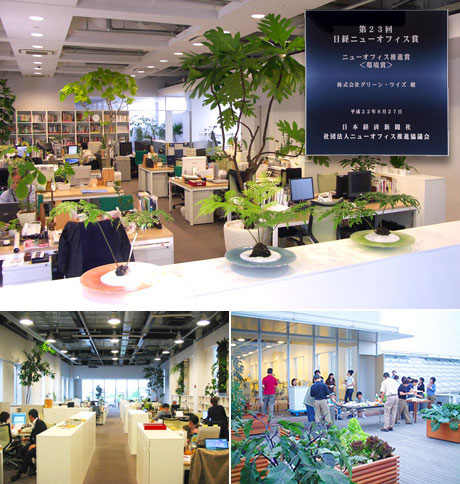 Main award recipients:
Minister of Economy, Trade and Industry: Fast Retailing Co., Ltd. Tokyo Headquarters
Environmental Award: Green Wise Co., Ltd.
Information Award: PricewaterhouseCoopers Japan
Creative Office Award: Fuji Xerox KDI Studio – Future Center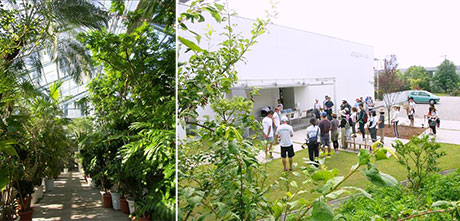 Green Wise took the opportunity of moving its headquarters to Sanno in Tama City in June, 2005 to create offices that aim for an environment in which people and greenery can co-exist. As well as being a comfortable and functional place that promotes worker communication and intellectual and productive activities that enhance creativity, our office received the Environmental Award for its initiatives in considering the global environment and ecosystems and contributing to the local community.
Now and in the future we will conserve and create ecosystems using the company's unique natural rotation cultivation and form a mindful community by utilizing the charm and function of nature in urban life, aiming to achieve a sustainable lifestyle in which people and greenery can co-exist.
New Office Promotion Association
2010 23rd Nikkei New Office Awards
http://www.nopa.or.jp/prize/contents/congratulation23.html