TOPICS
LaLaport Kashiwa Vegetable Gardening Course
Rooftop Vegetable Garden
We want you to eat safe and delicious vegetables with peace of mind rather than vegetables that even insects wouldn't eat. With this in mind, Green Wise is promoting organic cultivation. We planned, designed and constructed the vegetable garden to grow vegetables on the rooftop so that you can enjoy organic cultivation even in an urban environment surrounded with buildings. To this end, we also run cultivation classes and harvesting events.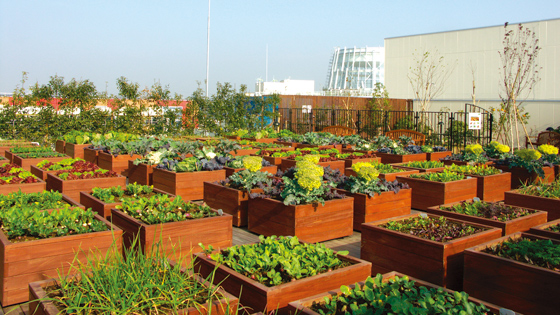 We have installed seventy-eight 90cm square wooden planters on the rooftop of「LaLaport Kashiwa」, the shopping center in Kashiwa City, Chiba Prefecture. We manage the garden on a yearly basis according to seasonal cultivation plans, and we hold events at harvesting times and we run cultivation classes for LaLaport members.